Think social is going to fundamentally change how business gets done?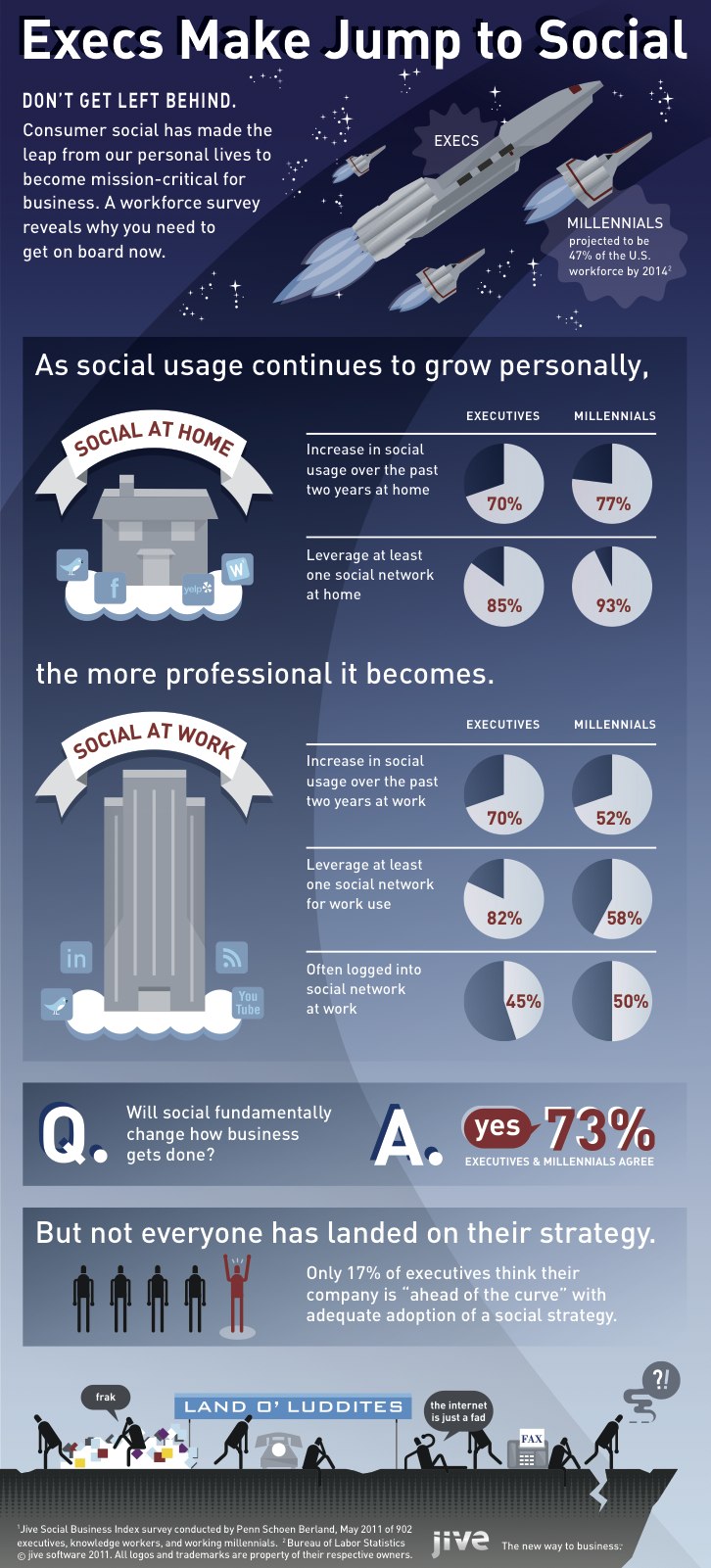 I suppose if you're a regular reader of our blog, your answer is probably yes.
However, we felt the industry needed a broader index that highlighted the perceptions of social business strategies employed by companies across various industries.
So that's what we're announcing today. We just finished performing a market analysis survey with Penn Schoen Berland, which provides powerful evidence that if dismissing social as a fad is risky business.
In fact, to the question above, of the 902 survey respondents from  mid -and large-sized companies, 73% of execs and 73% of millennials agree that social is going to fundamentally change how business gets done.
I'll be digging into some of the other survey results in upcoming blog posts, but today, I'm introducing the Social Business Index itself as well as taking a look at executive readiness for social.
The infographic (also attached below for download) highlights how social is not only moving to the enterprise swiftly, but also being pushed from both the top down (executives) and the bottom up (millennials).
Two observations from this aspect of the data include:
1.  Execs are leading the charge.
They're bringing social into the workplace. They understand the significant impact it's going to have on business.  For instance, 82% of execs  said they leverage at least 1 social network for work use (vs. 58%  for millennials).
2.  Most companies still have a lot of work to do in creating comprehensive social business strategies.
This survey shows that both technology and strategic guidance are critical when implementing social.  Many have been experimenting with social from a technology standpoint, which ultimately hasn't enabled them get ahead.
 

 

Coincidentally, these results mirror what we heard just last week at  the Enterprise 2.0  Conference in Boston. Here's a short clip  highlighting how understanding of the impact of social has significantly  increased in the  last few years as well as an example of a company  that is definitely ahead of the curve (and using Jive internally,  externally, and for social media monitoring).

 

 

 

And here's some additional information on the Social Business Index Survey.  The results are both eye-opening and validating that social will undoubtedly be the single largest shift in business in a generation.

 

 

Does this survey data surprise you? Leave a comment below, where you'll also find a copy of the infographic to download.